Services at Sage Hill Optometry
We offer a wide range of ocular services at Sage Hill Optometry including routine comprehensive eye examinations, ocular emergencies and diabetic health checks.
Below is a list of the services we offer, if you have any further questions please feel free to contact us.

Comprehensive Eye Examinations
We provide eye exams for all ages. Alberta Health Care covers children aged 18 and under, and adults 65 and over, every year. We direct bill to major insurance companies.

Medical & Emergency Examinations
Whether you're experiencing flashes of light, floaters, redness, irritation, a sudden loss of vision, or anything in between, we're here to help you. Seeking treatment for eye emergencies is an important step in protecting your vision and the ongoing health of your eyes. Alberta Health Care covers all emergency eye examinations.

Dry eye Management
Calgary is dry! So it's no surprise many of us experience dry eyes. Common symptoms include tearing, itching, sandy or gritty feeling, pain, and intermittent blurring of vision. Ask us how we can help you alleviate your dry eye symptoms.

Contact Lenses
If you need a break from glasses, we've got you covered. Contact lenses come in different materials and prescriptions (single vision, astigmatism, multifocal and different colours). We want to fit you with the most comfortable lens and provide you with the best correction possible.

Myopia Management
Higher near-sighted prescriptions do not only mean thicker and more expensive lenses but also increases the risk of developing eye-health related problems like retinal detachments. Myopia management helps decrease the progression of near-sightedness, which decreases the risks associated with increased prescriptions.

Eye Surgery Co-Management
We always want the best for your eyes. If you have significant cataracts or would like a referral for corrective eye surgery, we would be happy to help you. We're here to answer any questions, offer preoperative consultations and postoperative monitoring of your healing process. 

Drivers License Vision Test
We want to make sure you're seeing the best you can for driving. We have all the equipment necessary to fill out your driving forms.

Glasses
We have fashion forward eyewear with different styles, brands and a range of prices. We also offer adjustments, repairs & safety glasses.
Book your appointment today.
Our Equipment
At Sage Hill Optometry, we have the latest ophthalmic technologies. This allows for a precise evaluation of where your ocular health stands.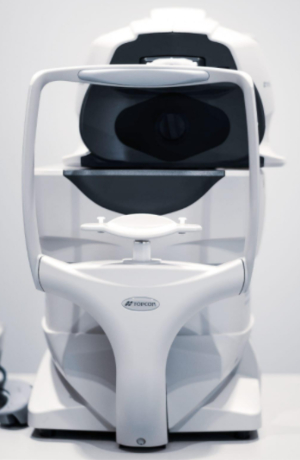 Autorefractor/ Keratometer/ Non contact Tonometer/ Pachymeter
This is a multipurpose machine.  The autorefractor and keratometer enables a quick and easy measurement of the curvature of the eye, and gives an estimation of the prescription. The tonometer allows a non-invasive way to measure the pressures in the eyes, which is an important risk factor in the development of glaucoma. The pachymeter measures the thickness of the cornea, which helps determine whether or not the pressure is within reasonable limits for an individual.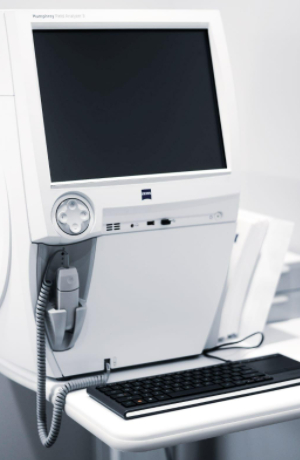 Zeiss Humphrey Visual Field Analyzer
Our visual field analyzer is used to determine whether there is decreased sensitivity in any part of central or peripheral vision. It is commonly used to manage and diagnose conditions such as glaucoma, macular toxicity to medications such as Hydroxychloroquine, optic nerve damage from tumors, and increased intraocular pressures.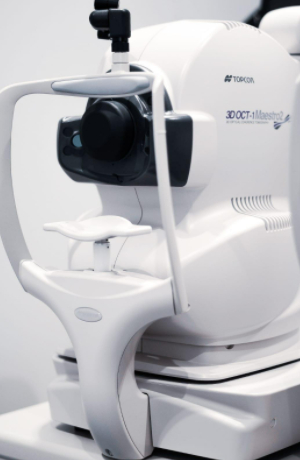 3D OCT Topcon Maestro
This is a combination of a high resolution retinal camera with the latest OCT technology. OCT stands for optical coherence tomography, which uses light to capture a high-resolution image of the optic nerve and retinal layers. It allows us to diagnose ocular diseases such as glaucoma, age related macular degeneration and diabetic eye disease which are the more common ocular conditions we see.